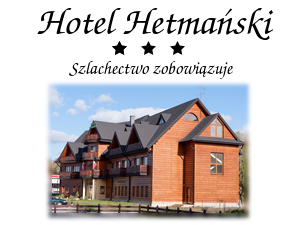 otel Hetmański *** is located next to international road E67, so it is a great rest spot for travellers. Hotel surroundings - Rawa nature parks and Tatar lake, make it a great refuge from bit city noise, and also a good place for a conference or a employee integration event.

otel is located next to a big forest. We organize forest walks, mushroom pickings, and - in winter - kuligs (sleigh rides) with torches. In summer, our horse carriage rides through neighbouring forests and fields will allow you to experience beauty of Polish nature - all that of course finished with the bone-fire feast with music and dances!!!
Improving your body strength should not be something done in a fitness club, but rather on a mountain bike, on one of the many bicycle trails in our hotel neighbourhood. If it is water sports that you are more fond of - the Tatar lake is just 2km away, and it is possible to hire a boat or a kayak.
If you would like to rest in peace and quiet and meditate a bit, we propose fishing in neighbouring fish ponds or on the lake, in a specially designated "quiet" zone.
We can also organize other, more modern, events, thanks to our cooperation with local entertainment and tourist agencies.
For those interested in history and archeology, the XIV-century Mazovian Princes Castle, located nearby, might be also an interesting destination.
We wil not allow you to get bored. We organize only highest quality events,
because noblesse oblige!