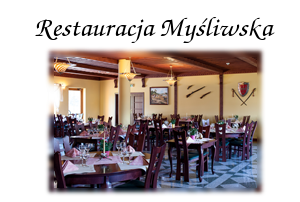 ur restaurant specializes in Polish cuisine. Our recipes are directly inspired by traditional recipes of Polish nobility, that have been passed, generation to generation, in Polish country homes and manors. Cooking delicious dishes is a passion of our chefs!

e hope that thanks to our traditional cuisine our Guests will be able to feel as in times long gone by. Times, when food had taste and herbal aroma. In our restaurant you can feel as if you were in Hetman's manor!!!
We offer dishes that are delicious and healthy,
because noblesse oblige!
Our Hunters' Restaurant offers dishes prepared only from highest quality ingredients. All dishes, including cold meats and desserts, are freshly prepared in our kitchen.
Cold meats are our specialty - prepared in-house without any artificial preservatives or chemical additives. In our menu you can find traditional Polish dishes, such as: "żurek" - polish sour cream soup served with white sausage, dumplings stuffed with wild mushrooms and sauerkraut, pork tenderloin "Hetman style", deer steak, mountain trout in aromatic herbs, apple pie "Polish style" and many other. We serve also a traditional Polish breakfast, that provides our Guests with energy since early morning; the breakfast includes rich selection of cold meats, roasts, pates, cheese, salads and bread.
The restaurant hall can sit 80 people and is air conditioned. Wireless Internet coverage is also available.
We organize events such as: weddings, birthday, anniversary, baptism etc. parties. For companies we can organize parties with a music band and traditional Polish feasts. Restaurant takes also special (e.g. Christmas) orders.