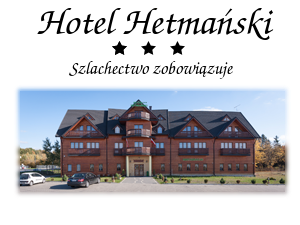 otel Hetmański *** was born because we are passionate about hospitality - and about tradition. We want our guests to experience, if only for the short while, traditional Polish hospitality that was described by so many visitors coming here in golden age, when Poland was the capital of the Polish-Lithuanian Commonwealth.

ur hotel has been decorated according to traditional style of long gone Polish nobility, that is heavily inspired by hunting tradition and by culture of Polish highlanders, so famous throughout Europe. In our restaurant only traditional recipes are used. We make our own cold meats and sausages and select fresh produce from local markets every day.

e would like to invite you cordially to our hotel.
We make sure that you feel at home,
because noblesse oblige!
Hotel Hetmański *** is located just next to S8/E67 highway linking Katowice and Warsaw, in Podlas village (the address is Podlas 46, Rawa Mazowiecka), around 80 km south of the capital.
We offer 2 suites, 28 double rooms, 4 triple rooms, air conditioned restaurant and conference rooms. There is wireless Internet coverage throughout entire hotel building (available at no charge to hotel guests).
The hotel is equipped with a lift. The car parks are located just in front of the hotel (free of charge).
We are able to host, and provide logistics services, for conferences, company meetings, seminars and employee motivation events. We also organize weddings and other parties.
We accept payment by credit card : Visa, Visa Electron, MasterCard, Maestro, American Express.